Sidekicks – Alien Technology / Sublevel is #3 on Beatport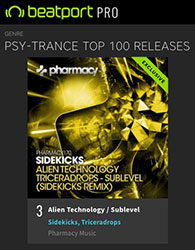 Sidekicks is the exciting new collaboration between Christopher Ton and Leiel Hazut. Chris and Leiel met in 2012 in Los Angeles and have been working on music together ever since. Growing up in Israel, Leiel has been cultured within the Psytrance community and heavily inspired by the likes of Astrix, Yahel and Astral Projection. Los Angeles native, Chris Ton had been DJing West Coast events for many years before joining forces with Leiel. Together they bring a forth the perfect blend of full-on psychedelic trance with goa influences.
Their debut release on Pharmacy is Alien Technology, plus a remix of Triceradrop's Sublevel. It is currently #3 on Beatport's Top 10 Release chart and a Featured Banner Release on the Psy-Trance front page. It has earned support from Paul van Dyk, Alex MORPH, Talla 2XLC, DJ Feel, Magnus, David Forbes and Robert Vadney to name a few.
Alien Technology has that perfect balance between driving psy and the more melodic Goa sound. Multiple lead lines weave in and out taking the listener on an out of this world experience.
Sidekicks do a brilliant job on their remix of Sublevel by Pharmacy's dark warrior of psy, Triceradrops. The duo turn up the psychedelic vibe with a wide range of tweaky mind altering melodies and effects. Sidekicks are leading the charge of home grown talent in the United States of Psy.
Out exclusively on Beatport.
Available worldwide on January 1st.
18 December 2017 News