X-Life / Risk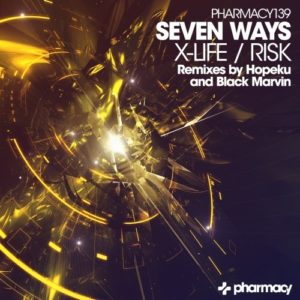 Label: Pharmacy Music
Release date: 2016-06-20
Catalog number: PHARMACY139
Seven Ways has done it once again with Risk & X-Life, two powerful tracks that further define his unique brand of trance. A DJ, promoter and producer since 2001, Seven Ways knows how to drive a dancefloor and he puts that knowledge to perfect use on this release.
Seven Ways expertly combines trance and psy trance on X-Life. The galloping bassline is at home in the set of any genre of trance. Psychedelic effects blend with trippy trance melodies. The crazy flanging lead line coming out of the breakdown makes this track a standout in any set.
Fellow Canadian psy trance producer, Hopeku, takes the original deep into psy trance territory with crisp clean production, a rolling bassline and acid melodies. Hopeku nails it on his remix giving you one more reason to add this entire release to your set.
Seven Ways keeps the party moving on Risk in more ways than one. Getting rid of the big breakdown entirely, this track utilizes two mini breaks so that the energy never stops. Pure pumping groove from start to finish.
Black Marvin lends his expert talents to the remix of Risk. Yet another brilliant Canadian psy producer in the Pharmacy family, Black Marvin turns the original track into a dark and twisted mind bender. Black Marvin drops the bpm and introduces a menacing, bass drone melody layered with swirling effects for the breakdown.