Tequila / Spartan Attack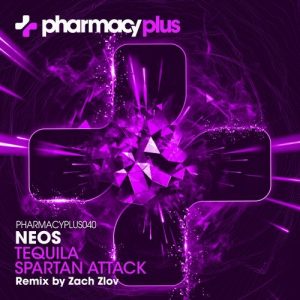 Label: Pharmacy Plus
Release date: 2017-09-04
Catalog number: PHARMACYPLUS040
Neos unleashes his third and most intense release on Pharmacy Plus with Tequila. Neos debuted with his massive Spartan Attack and every release since has continued his hi-octane, tech trance driven floor destroying sound earning him support from artists across the trance genres including Armin van Buuren, Astrix, Indecent Noise, Ben Gold and label boss Christopher Lawrence.
Tequila has a fast rolling bassline, slicing arps, acid stabs and an in-you-face "Go" vocal sample. The breakdown kicks off in the usual Neos style with a wicked breakbeat. The acid lines get crazier in the second half as the track really begins to take off.
Zach Zlov turns in a brilliant techno grooving remix of Spartan Attack. In just a few short years, Zach Zlov has already gained the support of Simon Patterson & John Askew for his genre crossing style of trance and techno. This is not your traditional tech-trance but a whole new style with a techno groove and classic techno stabs. Witness the sound of the future.