Synesthesia / Floor Bomb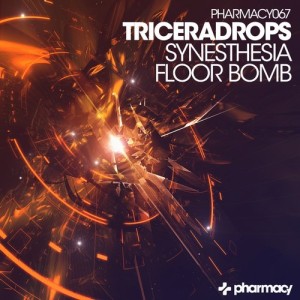 Label: Pharmacy Music
Release date: 2014-07-07
Catalog number: PHARMACY067
Pharmacy is excited to introduce the latest member of our team, Julian Noriega, aka Triceradrops. Julian first came to our attention when he submitted his remix of Christopher Lawrence & John 00 Fleming's Beyond The Limit and won a place on the 2013 Remix Release. We knew we were on to a good thing.
Based in Los Angeles, Triceradrops is a death metal head turned psy trance producer. A graduate of the Los Angeles Recording School, learning mixing, sound design and mastering prepared him for greatness. Influences from tech trance, hard trance, dark techno, and various styles of psy trance, all come into play with his productions. As Julian describes it "Psychedelic music with power – techy twisted bass lines and nice melodies."
Triceradrops does not disappoint with his debut release. Synesthesia and Floor Bomb are aimed squarely at the dance floor. Synesthesia is a well polished psy trance journey for the mind while Floor Bomb is exactly what its name describes as proven by the eruption it caused on the dance floor when label boss Christopher Lawrence dropped it recently at the 420 Festival in Los Angeles.