Superliminal Messages / Never Break A Circle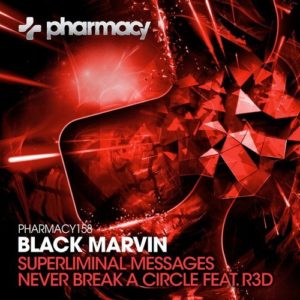 Label: Pharmacy Music
Release date: 2017-06-12
Catalog number: PHARMACY158
Black Marvin is one one of the most creative artists on the label, always impressing us with each new release. Black Marvin does not adhere to any rules, instead forging his own unique sound.
Superliminal Messages is psy but with that signature classic progressive house twist Black Marvin uses to give his tracks an irresistible emotional depth. Superliminal Messages is a builder of a track, teasing the listener with hints of the acid line in the first half of the track but Black Marvin holds back and until second half to unleash the full furry of the acid assault.
Black Marvin teams up with guitarist R3D for a progressive psy journey that moves from triplets to straight four beat before reaching the breathtaking cinematic breakdown with it's lush pads, ethereal melodies and incredible East Asian influenced guitar work.