Max Pain EP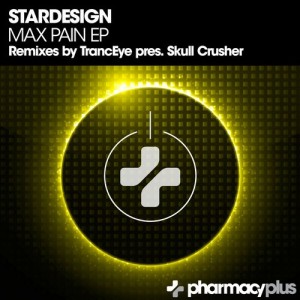 Label: Pharmacy Plus
Release date: 2015-12-21
Catalog number: PHARMACYPLUS014
Stardesign, also know as Marcin Pyrkowski, has been producing since 2006. Initially specializing in progressive house and breaks, he has released tracks on JOOF, Baroque Muisc and many others including BMG and Sony Music Poland. Over time his passion has lead him to the tougher underground sound of tech trance. Pharmacy Plus is pleased to present Stardesign's Max Pain, which is the first and hopefully the start of many tech trance productions.
The Original version of Max Pain shows off Stardesign's well trained production skills merging traditional progressive house with the aggressiveness of tech trance. Well developed melodies blend perfectly with growling synths. This track is a proper trance journey.
On the Payne's Residence edit of the original Stardesign takes the track much deeper. Max Pain takes on an eerie underground club vibe stripping it back with a definite progressive house influence.
Stardesign enlists the services of TrancEye. As one of Poland's more respected and prolific trance producers, TrancEye has firmly established himself as a mainstay of the scene, with over 100 tracks released on some of the industries most respected labels since 2008. Przemek has many other aliases and in 2015 he has activated his tech-trance alter ego Skull Crusher. Alongside producing tracks, TrancEye also operates as A&R Manager for Diverted Music so you know he's got his finger on the pulse.
As Skull Crusher, TrancEye transforms the original into a monster of a tack with power and energy to drive the most demanding audience. Massive chords and a sinister vocal sample create a breakdown among the best we've heard in a long time and guaranteed to be one of the biggest moments of the night.
Skull Crusher also included a Dub Mix for those faint of hart that find the breakdown just a little too sinister.