Livewire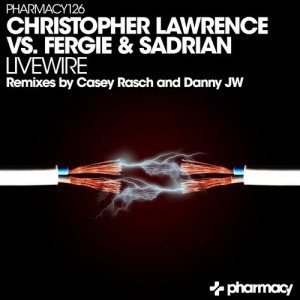 Label: Pharmacy Music
Release date: 2016-01-25
Catalog number: PHARMACY126
Christopher Lawrence and Fergie & Sadrian join forces again to unleash Livewire, another dance floor banger. After the overwhelming support and success of their single Buenos Aires last year, they decided to whip up a new track when they were on tour again in Argentina to DJ the infamous Pharmacy Night at Mandarine to a sold out crowd.
Once again this mighty league of trance heroes consisting of Christopher Lawrence, Fergie, Sadrian and Emiliano (the secret third member and manager of the group as well as A&R genius for Pharmacy) craft a full on Pharmacy styled psy tech crossover track. Livewire strikes straight at the heart of the dance floor with its pounding kick and bass. Techno percussion, stabs and vocal samples blend with a rolling baseline and zipping effects. Road tested the night they finished it at Mandarine nightclub in Buenos Aires, the track blew up and they knew they had a winner.
Just as on their last release, Buenos Aires, the group once again enlisted the remixing talent of Casey Rasch to work his magic. Casey manages to once again outdo himself by transforming the track into a formidable tech trance monster with fierce percussion, growling acid and a mesmerizing breakbeat breakdown.
Danny JW never ceases to surprise us with his range of styles. After blowing us away with his progressive house hit Guardian on Pharmacy Plus, Danny JW turns around and delivers a pumping psy trance version of Livewire that is destined to rock parties from the underground to the festival.