Live Or Die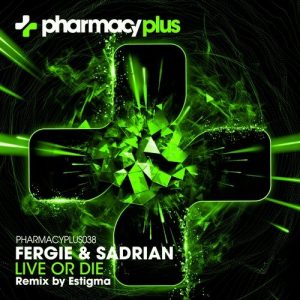 Label: Pharmacy Plus
Release date: 2017-08-14
Catalog number: PHARMACYPLUS038
Fergie & Sadrian are back with yet another twisted tune destined to warp the minds and souls of partiers everywhere. Topping it off is a brilliant remix from Estigma who has appeared on all the biggest trance labels with support from the likes of Armin van Buuren, Paul van Dyk, Sean Tyas, Simon Patterson and Bryan Kearney. We are excited for his debut here on Pharmacy.
Fergie & Sadrian have a special skill of creating tracks that mess with head of the listener. Live Or Die weaves through the darkest recesses of your head creating feelings of euphoria only to flip the switch and take a dark path, all the while a pumping kick and bass keep your feet safely on the ground.
Estigma takes the twisted vibe of Live Or Die and makes it even more trippy. The galloping beat and sharp percussion have plenty of energy but the vocal sample in the breakdown is the stuff of nightmares. Play this at your own risk.