Libra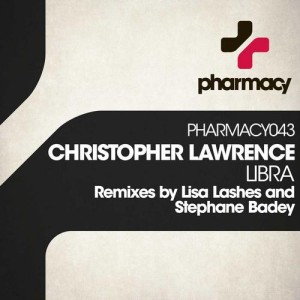 Label: Pharmacy Music
Release date: 2013-10-07
Catalog number: 888003244320
Pharmacy label boss Christopher Lawrence returns with his strongest work to date. It?s Christopher?s signature sound which is instantly recognizable with a modern twist combining underground trance with psy trance.
A rolling psy trance bass line powers the groove of the track while shimmering melodies drive the energy of the track. A clever vocal sample and breakbeat drop in the middle creates tension before the melodies multiply and the razor sharp acid line kicks in. Libra has been road tested across the globe from Russia to Argentina and all across the United States with the same devastating reaction on the dance floor.
Taking this release to a whole new level is a remix of Libra by Lisa Lashes, the number 1 female DJ in the world. Lisa Lashes is recognized around the globe for her incredible DJ sets but it is her cutting edge underground productions that have made her one of the hottest and in demand producers. That is why we here at Pharmacy are so excited to have Lisa on remix duties for Libra. Lisa delivers a totally fresh and upfront sounding rework of the original that gives it a universal appeal across all genres with a vibe to fit any set any time.
Rounding out the release package is a superb remix by French producer and Pharmacy Label newcomer, Stephane Badey. Christopher Lawrence was so impressed with Stephane?s winning remix contest entry for the John 00 Fleming & Christopher Lawrence track Beyond the Limit, that he personally requested a Stephane Badey remix of Libra. Stephane came thru with a fantastic remix that takes the original deeper, darker and with an added touch of class.