Land of Freedom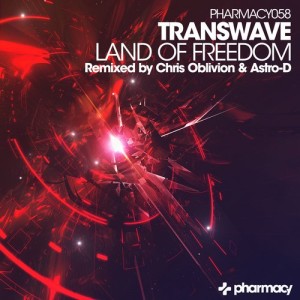 Label: Pharmacy Music
Release date: 2014-03-10
Catalog number: 888608723213
Transwave is comprised of the legendary French duo Christof Drouillet (known as Absolum) & Frederic Holyszewski (known as Deedrah). Originally released in 1996, ?Land of Freedom? was one of the best known and successful Goa trance records of its time.
It is only fitting that the production team of Chris Oblivion & Astro-D should pay homage to this great track and give it the honor of a 2014 remix.
"We decided to remix "Land Of Freedom" because it was one of our 90s Trance favorites.
It was a favorite because it was innovative and created some kind of tension on the dance floor before it bursts into a massive breakdown. We both wanted a version we could fit in a DJ set nowadays so we started remixing it with a huge respect to the original.?
With a pumping, rolling bassline, dancing arps and crisp percussion this remix of ?Land of Freedom? is as good as it gets.
Chris Oblivion?s background as an active sound engineer, his studies on that topic and his experience in working at recording and post production studios for over 15 years, have made him experimental and very selective on his sounds. This attention to detail is particularly evident in the exquisitely crafted breakdown.
Astro-D is a pioneer of the Athens, Greece, electronic music scene and an old school raver who started DJing in the early 90?s. That?s when he first became excited by the Goa sound and the original ?Land of Freedom? by Transwave . Fast forward to 2014 and Astro-D is DJing and producing psy trance for labels such as GOA Records, Ovnimoon, and EDM Records.
Besides producing and remixing for countless other producers and labels, Chris Oblivion is the co-founder of the successful Destination Sunshine events which are euphoric & Balearic trance oriented as well as the Destination Sunshine record label.
For those that like things a little darker, Chris Oblivion & Astro D have done a stellar job of crafting the ?Stripped Version?. The ?Stripped Version? is slightly more reserved but every bit as pumping and polished as the original.