Infected Brain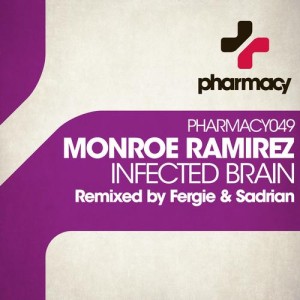 Label: Pharmacy Music
Release date: 2013-11-18
Catalog number: 888003690912
Infected Brain by Monroe Ramirez is one of our most banging tracks to date. After the success of his collaborations on Devilish Visions & DarKadavra with Fergie & Sadrian earlier this year, Monroe returns to Pharmacy with a solo project that is destined to destroy dance floors. Add to that a Fergie & Sadrian Remix of Infected Brain and the success of this track is a no brainer – it had to be said.
Monroe?s original version is a slamming, warehouse rocking, peak time, floor filler. A pulsing off-beat bass and acid lines galore make this an energy packed banger. The breakdown is dark and sinister like all good tracks should be.
What can we say about Fergie & Sadrian that we haven?t said before? These guys are the hottest underground trance producers and we are so proud to have them representing Pharmacy Music. Once again Fergie & Sadrian nail it on remix duties turning in a churning and bubbling track that will satisfy the cravings of the darkest underground club and the largest festival alike.
Devilish Visions & DarKadavra had support of some of the biggest names in trance like Sean Tyas, Activa, Giuseppe Ottaviani, Binary Finary, Jonathan Allyn, Manuel Le Saux, Paul Trainer, Reaky, and label boss Christopher Lawrence.
We expect even more from Monroe?s new track, Infected Brain. This one is a tech trance masterpiece.