Creator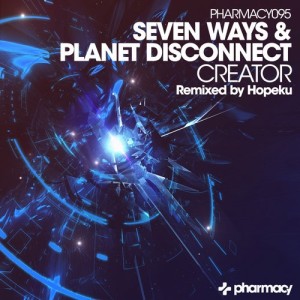 Label: Pharmacy Music
Release date: 2015-03-16
Catalog number: PHARMACY095
Seven Ways aka François Turcotte and Planet Disconnect aka Marc-Antoine Potvin are fast making a name for themselves. Following on their hugely successful debut single, The Samurai, Planet Disconnect return with a bang, outdoing themselves with their new single, Creator.
Creator is trance with a bite. Building on a psy trance framework, Creator quickly becomes a ferocious beast. Crunchy electric guitar chords fuel the energy of this track as wiggly acid lines abound. Taking the track to the next level is a lead hook reminiscent of a James Bond soundtrack. Everything comes to a full stop at the main breakdown and one simple question is asked – Do you want to be the victim or the creator? The track kicks back in full throttle and the mayhem continues.
Fellow Canadian psy trance producer, Hopeku, lends his hand to the remix of Creator. Ever since 2005, when he first put his hands on audio creation software, he's been perfecting his style and working hard to perfect his craft. On his remix, Hopeku keeps the energy cranked up with a driving beat and tweaking the guitar chords even further.