Commodity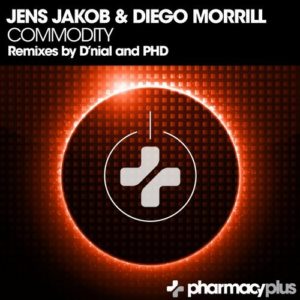 Label: Pharmacy Plus
Release date: 2017-03-13
Catalog number: PHARMACYPLUS034
Jens Jakob and Diego Morrill team up again for an outstanding tech trance workout. Danish producer, DJ & label owner of Unique Sound Records, Jens Jakob, has a unique talent for creating amazing melodic arrangements made up of uncommon and discordant sounds. It's the very quality that made his artist album, Another Dimension, so fresh and exciting. Mexican DJ and Producer, Diego Morrill is known for his acid infused beats and energy pumping rhythms. Together they make a powerful team. The pair's last collaboration Titan was supported by DJs from Jordan Suckley to M.I.K.E. Commodity picks up where it left off with swirling acid lines, fierce melodies and an awe inspiring breakdown.
First up on remix duties, D'nial reworks the original into a psy and tech trance hybrid. Combining a psy trance bassline and psy effects with an epic melody, D'nial takes Commodity in a completely different direction for a whole new audience.
PHD ramps it up on his banging tech trance remix of Commodity. PHD comes from a hard dance background so he knows how to move a dance floor but in addition he gives the track a massive euphoric breakdown perfectly primed for those huge festival moments.