Buenos Aires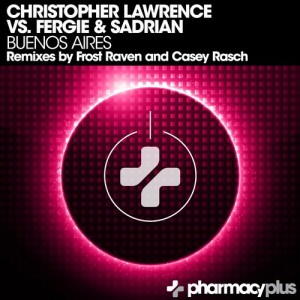 Label: Pharmacy Plus
Release date: 2015-07-06
Catalog number: PHARMACYPLUS005
Christopher Lawrence and Fergie & Sadrian have joined forces to create a monster of a track for this year's summer festivals and underground club nights. Inspired by their mutual love of underground trance, their long time friendships and their histories as founding artists on Pharmacy Music, these heavyweights decided it was time to team up in the studio to create something special. The last time Christopher Lawrence was on tour in Argentina, he met up with Fergie, Sadrian and Emiliano (the secret third member and manager of the group as well as A&R mastermind for Pharmacy). The guys dove into the studio and came up with a track that captured the energy of a peak time party in Buenos Aires. The track proved itself a favorite every night of Christopher and Paul van Dyk's tour of Argentinian tour last November.
The guys knew they were on to something good. But why stop there? We enlisted the help of not one but two of Pharmacy's top producers, Frost Raven and Casey Rasch.
Frost Raven does what he does best with a remix – transform it into something totally new and original yet keeping the essence of the original. That is exactly what he does with his absolutely brilliant techno rework.
Casey Rasch is currently one of the hottest names in underground trance and his remix of Buenos Aires proves why. Casey takes an already pumping trance track and turns the energy up one louder to 11.
With these three versions, there will be no escaping the amazing Buenos Aires vibe wherever you are this summer.