Auditory Hallucinations EP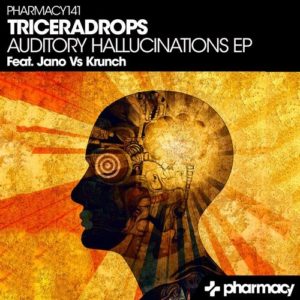 Label: Pharmacy Music
Release date: 2016-08-15
Catalog number: PHARMACY141
Triceradrops returns to Pharmacy with a massive five track EP. On each and every track be prepared for a mind bending journey. Triceradrops had this to say "The influence for this EP was my rollercoaster of emotion the past year. Taking myself from both the dark days and good ones and honed that energy to create something special for everyone."
With mentoring from fellow Pharmacy artist, Orpheus, Triceradrops kicked his production into high gear. He also credits inspiration from psy family Pulsar, Psytribe and Pulse. From those underground parties he learned what a true bass and kick should sound like. He puts his knowledge to good use on this EP.
A Lucid Nightmare is Triceradrops best original track to date with crisp clean production and pumping bassline. Ronald Raygun is that dark, twisted progressive psy we have come to expect. Malice's signature sound is a growling alien voice melody line. And with Auditory Hallucinations, Triceradrops revisits his dark roots.
The icing on the cake with this release is the Triceradrops remix of Wave Rider by Jano Vs Krunch. High energy acid lines and a powerful bassline make this track a stand out.
Be sure to catch Triceradrops at Dreamstate Socal 2016 in November.