Magnus – Forward Command 2017 is Top 40 on Beatport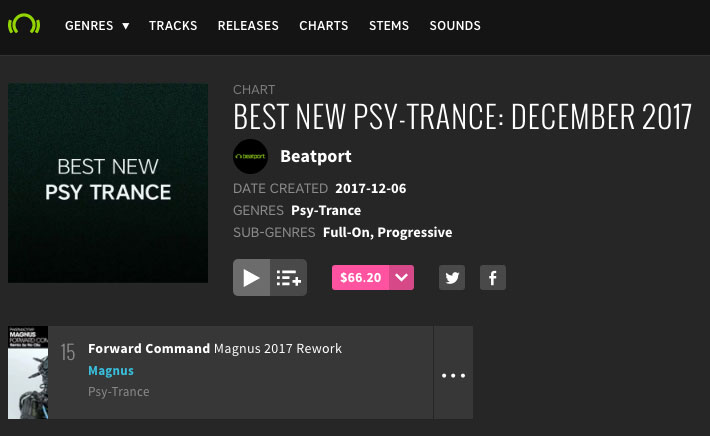 It was while hanging out at a desert party that No Cliu​ presented Magnus Music​ with the concept of a 2017 release of Forward Command including a No Cliu remix. That late night conversation under the stars gave rise to this brilliant release which is currently Top 40 on Beatport. It was also a Featured Release on the Psy-Trance front page and was handpicked by Beatport for their Best New Psy-Trance chart. The track has won support by DJs from Alex M.O.R.P.H.​ to Bjorn Akesson​.
Magnus was the second artist ever to release on Pharmacy music back in 2008 with his debut Fluid Motion. He burst on to the seen with his unique and influential style of melodic psy trance characterized by rolling psy basslines and melodic trance melodies. In 2010 Magnus released Forward Command and cemented his place at the forefront of the American psy trance scene.
Fast forward to 2017 and Forward Command is still just as relevant but over the years Magnus has grown by leaps and bounds as an artist and in his production. Nine years after it's initial release Magnus reworks the original giving it a powerful sleeker sound for this 2017 release but never fear he has stayed close to the original that we all loved.
No Cliu rocked his way onto the Pharmacy team earlier this year with his debut Fatty Tuna EP. No Cliu has outdone himself with his ripping take on the original with it's fierce acid lines and raw energy.
Here at Pharmacy, we are proud to present one of our first artists with one of our newest for this fantastic 2017 rework of Forward Command.
Out exclusively at Beatport.
Available worldwide on December 25th.
11 December 2017 News