Chris Liu – Fatty Tuna EP cracks Beatport Top 5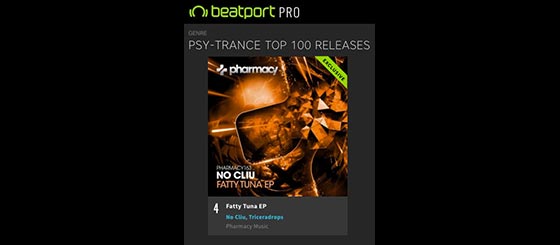 No Cliu debuts on Pharmacy with a brilliant three track EP which is currently #4 on Beatport's Psy-Trance Release chart and is a Featured Release on Beatport's Psy front page. The EP contains two original tracks – Fatty Tuna and Wasabeats as well as a ripping remix of Synesthesia by Triceradrops.
No Cliu began his career DJing psy events in Japan before relocating to Los Angeles where he is an official member of the Pulsar Musicevents team of artists.
These tracks have been road tested by No Cliu at outdoor festivals from the California desert to the recent massive Global Eclipse Gathering Festival in Oregon. Fatty Tuna and Wasabeats are full on late night psy tracks with slinky acid lines, pumping rolling baselines, crisp percussion and heaps of mind altering effects.
No Cliu takes on Triceradrops's Synesthesia and gives it a powerful makeover while still retaining the dark and twisted vibe of the original. Be warned – this remix is not for the faint of heart.
Support from Christopher Lawrence, Giuseppe Ottaviani, David Forbes DJ/Producer Official, Manuel Le Saux, Les Oberon and Robert Vadney to name a few.
Out exclusively on Beatport.
Available worldwide on September 25th.
12 September 2017 News