Beatport's Best New Psy-Trance Chart feat. Changes & DJ Calixta – Axion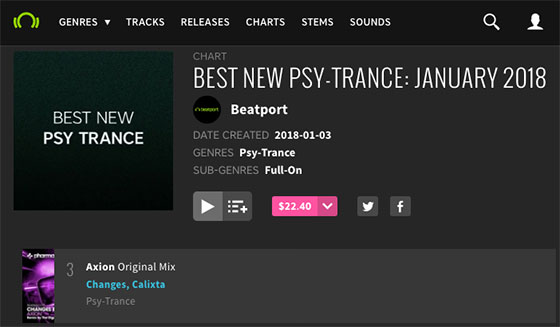 Pharmacy veteran producer Changes teams up with our newest member of the team, Dj Calixta, for one incredible track titled Axiom. These two Slovenian DJ/Producers have been pushing the underground trance and psy sound in their sets throughout Europe. Now they are ready to unleash their sound on on the rest of the world as their tracks work their way into your set and the sets of Paul Van Dyk, Maarten de Jong, Christopher Lawrence, DJ Feel and many others.
Axion was also handpicked by Beatport for their Best New Psy-Trance Chart and is a Featured Release on the Psy-Trance front page.
Axion draws influence form techno, trance and psy. A bouncing groove, syncopated acid riffs and hints of melody guide this track to the break. The sinister lead line that develops in the break carries over into the drop where the bassline gets a menacing wiggle.
Legendary producer The Digital Blonde makes his Pharmacy debut with a bang up job on remix for Axion. Hold tight as The Digital Blonde takes you on a proper trance journey through the night. This amazing track needs to be listened to from start to finish to truly appreciate the sonic story as the track twists and turns and the multiple layers of melodies ebb and flow.
Out exclusively on Beatport.
Available worldwide on January 15th.
8 January 2018 News