Memory Splice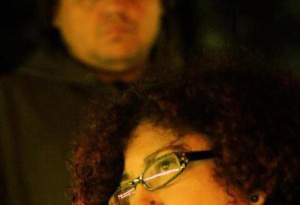 Biography
Memory Splice is the musical union of Sonny and Pixie Bruner, DJ/Producers. Founded over three years ago, these two artists have over 35 years combined of musical experience as performers, composers, arrangers and producers, Memory Splice seeks to take electronic dance music into all the far and distant imagined futures.
Memory Splice is the marriage of human and machine, calling forth the voices and sounds of the Void of the binary system onto the dance floor and into the world. Using elements from the golden nights of EDM culture and the cutting-edge tech, this team has been compared to the union of Underworld and BT by Atlanta radio DJ Missy Limina (WRAS 88.5FM). Their music uses intense sound design and big sound palattes, layers upon layers, mind-warping automation and effects and always makes sure the next track is better than the one that came before.
Memory Splice is always pushing ahead embracing modernism, these artists work in harmony to bring together and burn the bridges of classic and progressive trance and house using controllerism and all that technology can offer and will offer, to create and recreate a time-bubble of when listening to EDM and going to underground parties and clubs was an immersive, lush, communal, and intense listening and dancing experience.
Memory Splice is currently hard at work in their Atlanta GA area studio working on explorations of new vistas and their monthly show Soundscapes. Memory Splice are always looking skywards toward the stars and welcoming the sunrise.
The most recent release is their Uplifting Trance Remix of Digital Analogue feat. 5kiTzz0′s "Breaking Up With Molly" that rose to #18 on the DJTimes National Dance Crossover Charts which was released on Atlanta's visionary illuma Records of which veteran EDM producer FORD is part of.  Memory Splice's next release is on the prestigious Pharmacy Music label, the flagship label of legendary Trance and Progressive EDM Producer Christopher Lawrence a and will be released on Beatport and other outlets starting October 14th, 2013.
Booking
Email: memorysplice@gmail.com